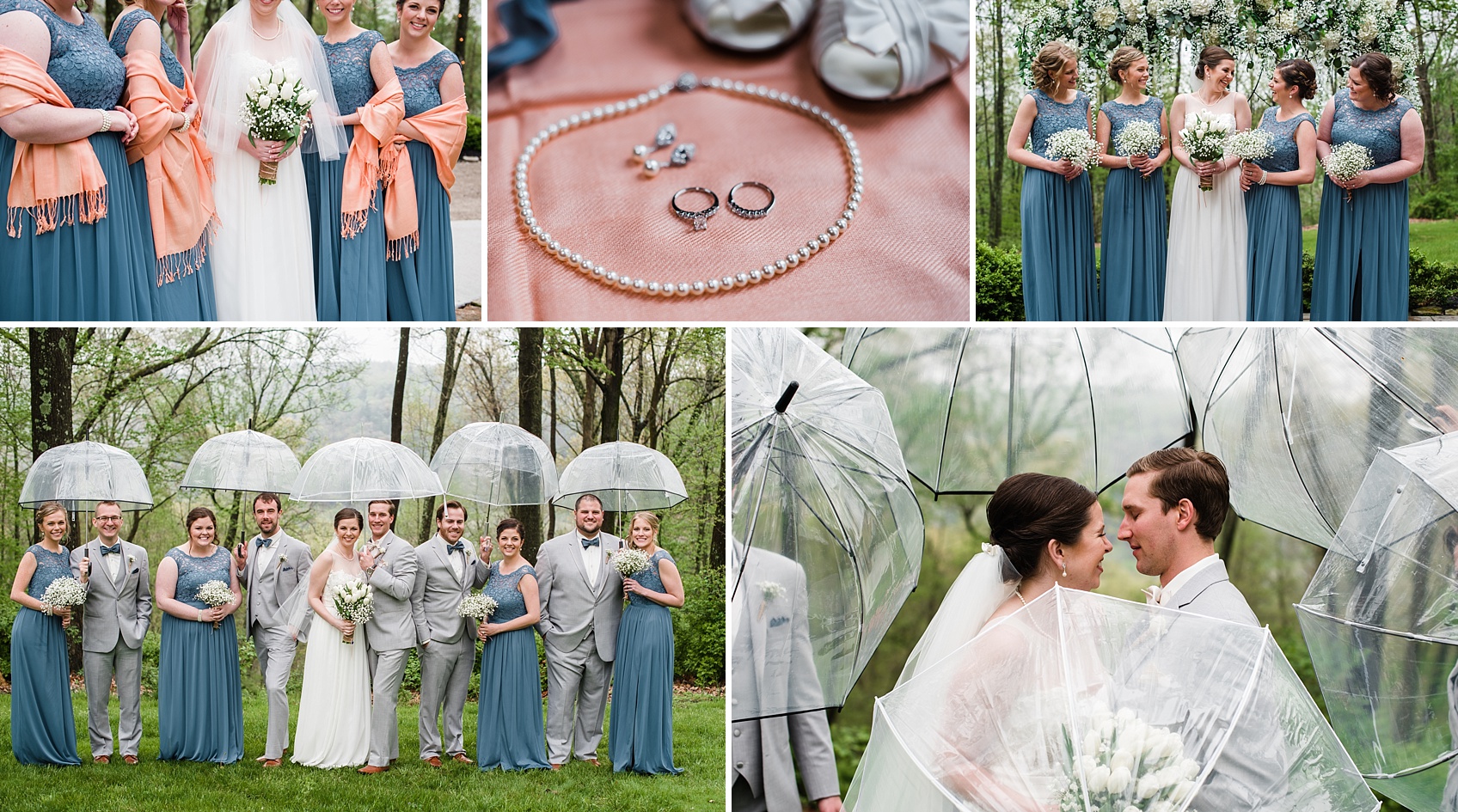 Nicole and Erik woke up that morning with the skies all black and rain just pouring down. It didn't matter. They didn't care one bit. They knew their day was going to be great regardless of the weather.We gathered up a bunch of umbrellas just in case but by the time I got to the Grand Barn the pouring had turning into sprinkling. They were deciding whether they should move the wedding under cover or not. Nicole kept saying " The rain will stop. We will have it outside. It will be fine." With a huge smile on her face. They were so positive throughout the whole morning. All the girls got ready in The Grand Barn and by the time photos were ready the sprinkle was starting to fizzle out.
Nicole and Erik are a pretty adventurous couple. They travel a lot. They love to sight-see and hike. They definitely showed through on their wedding day. From all their details, to the photos to just their positive attitudes about just rolling with the weather. It truly was wonderful to see.
Their personal touch all over their wedding day made everyone feel at home and part of the family. They had wooden signs that Nicole's mother made with old barn wood from both Nicole and Erik's family. Nicole's grandparents made their cake stand out of a tree Erik helped cut down. Their cookie table was a nod to their families and where they lived. There was even a girl scout cookie section with a photo of little Nicole in her girl scout uniform. It was adorable. The favorite might just be the Grandmother flower girls. They were so excited to be walking down the aisle and sprinkling those petals. Everyone had a huge smile. After the ceremony we ventured around The Grand Barn property for some photos. If you haven't been there before, the tree house cabins are so much fun! Erik and Nicole definitely wanted to show them in some of their photos. They were staying in the red treehouse so we made the hike up and let me tell you, I want to stay the night there now! It was so cute and charming. We found a pretty field with blooming trees to finish of the photos and everything was just beautiful.
The rest of the evening was spent smiling and dancing with all their friends and family. Everyone was having a good time. It truly was a beautiful day!
Thank you Erik & Nicole for letting me be a part of it!